REDi

Partners with Advanced Fraud Solutions to Strengthen Protections Against Card Fraud

The partnership with Advanced Fraud Solutions (AFS) combines REDi's real-time risk scoring and machine learning capabilities with AFS' extensive card fraud database and access to Dark Web sources. The result significantly expands the data, capabilities and protections against card fraud. 
REDi and AFS' partnership adds significant capabilities to REDi's ability to analyze, detect and stop at-risk card transactions. Capabilities include: 
Analyze card threats across all card portfolios.

REDi provides visibility into all debit and credit card data via a single, integrated platform. 

Additional analysis of card data.

The partnership provides banks and credit unions with an established credit card data file with over 100 data points that help identify potential fraud. 

Advanced warning of compromised cards.

Receive advanced warning and recommended action when potential fraudulent activity is afoot

Pass on compromised cards.

Pass at-risk cards onto REDi's compromised card list in order to block, warn, adjust card limits or reissue to prevent serious losses. 

Detect active card fraud efforts.

Receive real-time alerts when fraud operators are attempting a brute-force BIN or velocity attack; provides fraud teams with automated notification so that they can prevent damages. 

Automated rules.

Apply automated card transaction rules — including dollar amount, number of transactions, location of transaction, etc. — in order to prevent fraudulent activity. 
Banks and credit unions need enhanced solutions to address today's high card fraud rates and online, card-not-present risks, including BIN and velocity attacks. Benefits include:
Reduce card fraud-related losses.

REDi's integration strengthens protections against the latest card fraud threats, allowing banks and credit unions to stop losses before they occur.

Proactive threat mitigation.

Using both REDi's machine learning capabilities, as well as Dark Web sources, banks and credit unions are to proactively monitor and flag potential threats to your card portfolio. 

Improve your reputation.

REDi allows you to see threats 'around the corner' when it comes to card-related threats, protecting your customer, instilling trust, and improving your reputation.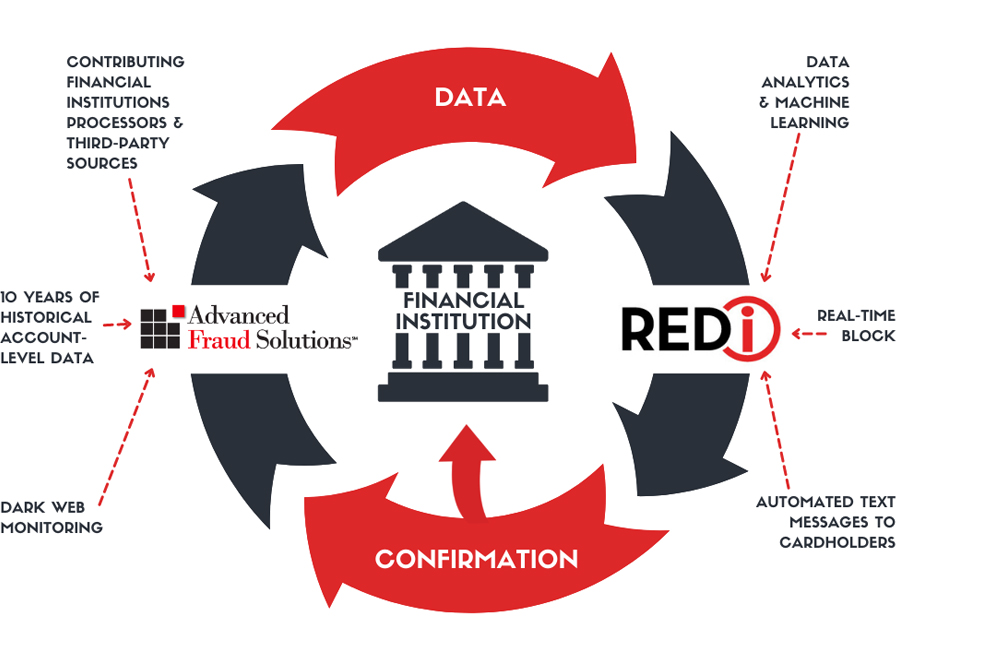 Learn how REDi can better manage your card risk.